Our TE-K Program [6 Elements] Helps to Make Your Tooling A-OK
Our customers spoke and we listened. To help ensure that our customers always have enough of the right tooling on-hand, we created a flexible regrind and stocking program that we call TE-K, as in Tru-Edge-Kanban. At its core, TE-K is a just-in-time (JIT) inventory management process controlled through a min./max. system that uses a lean workflow management method (Kanban) developed in Japan decades ago.
We have tailored that system to our specific purpose of meeting customers' tooling requirements precisely and continually.
Table of Contents
TE-K's Six Components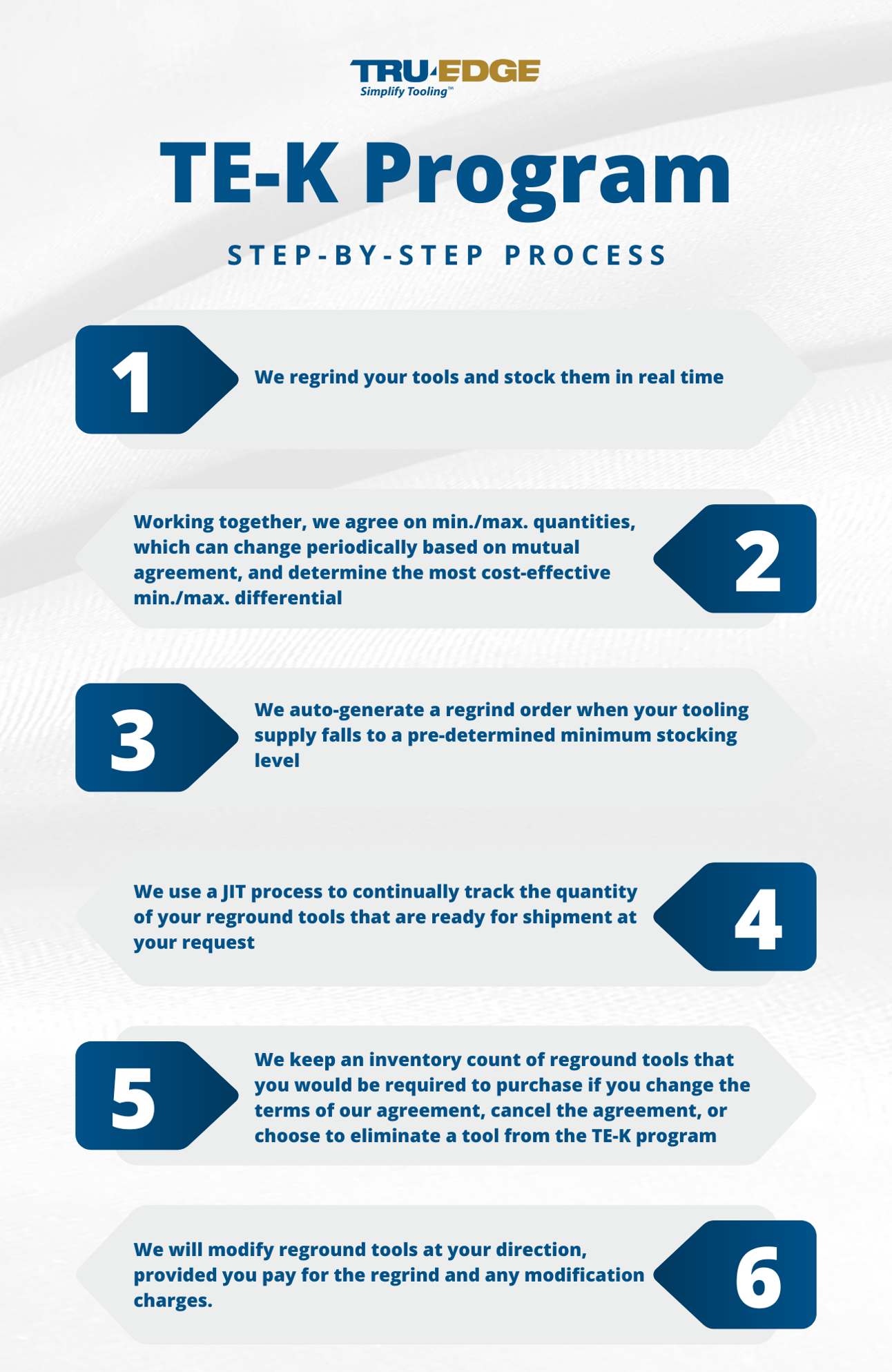 Why We Created the Program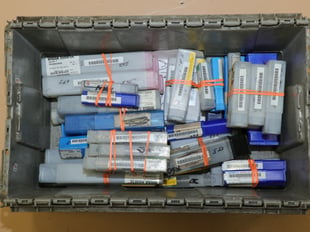 Many of our customers told us that it was expensive for them to manage cutting tool programs on their own. That's because it's time-consuming to sort tools, identify a company that can provide quality re-grinds, send tools out for regrinding, receive shipments of refurbished tooling, inspect the tools, and re-stock them.
TE-K minimizes customers' headaches and helps them keep their tooling costs under control. The program is ideal for medium- and large-sized companies that specialize in metal removal. Each customer's regrind and stocking program is qualified through our sales and engineering teams and tracked using CTQ (critical to quality) practices to make certain we continually meet your high standards.
Smaller shops that want to benefit from our regard capabilities can put their worn tools in a transport box that we provide and ship it to us. We will then return the box with refurbished tooling.
How the Refurbishing Process Works

After we receive a customer's worn tooling, we sort the tools into two categories: those which can be re-ground and those which need to be recycled. Then, we provide a quote for regrinding, you issue a purchase order that authorizes us to perform the work, we regrind your tools and return them to you with paperwork included.
We also offer value-added services based on each customer's requirements. Those services include measuring tool sizes, laser-marking the shanks, adding your custom item numbers to the package labels, providing inspection reports for receive-and-stock options, as well as other services you may require.
Conclusions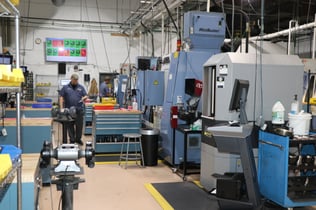 Since we started the business in 1996 – nearly 30 years ago – our goal has been to reduce the total cost of ownership (TCO) of the tools our customers use. TCO reduction includes maximizing the number of re-sharps by using precision re-grinding techniques based on the application for which a tool is used. Our engineering expertise enables us to develop custom regrinding solutions that allow for the greatest number of re-grinds.

Our willingness to "roll up our sleeves" to get a deep understanding of each customer's specific tooling requirements sets us apart from other providers of tool regrinding services. Combined with our capabilities to stock inventory on a JIT basis through the TE-K program, we are a loyal partner instead of just another supplier.

For details on how TE-K can benefit your operations, give us a call at 419-678-4991, visit our website or use the form below and we will get in touch with you promptly.