Repaired Tools Provide Like-New Quality at a Lower Cost
You need the right partner when you have damaged indexable cutting tools that must be restored to 40RC in like-new condition with strong, non-porous, and flat surfaces.

When you work with MetalCut to restore damaged indexable cutting tool holders, we can do all that with our team and state-of-the-art facility.
We provide quick turnaround times without breaking tool budgets. That's our recipe to help you accelerate production schedules and enhance profit margins for the jobs that depend on these tools.
We can handle almost any tool from any brand:
Co

re Drills,

End Mills,

Indexable Drills,

Milling Cutters,

Modular Tooling,

Special Blueprint Tooling,

Tool Holders & Cartridges, or

Trepan Tools
We can do more for less – that is, give you better value – than other tool repair partners because our combination of experienced engineers and machinists, along with having the most modern CNC equipment – a 5-axis machine -- on our shop floor, gives us the ability to maintain pocket hardness throughout the welding process to ensure proper fit, form, and function of your inserts.
Specifically, we qualify repaired pockets to ensure fit against the walls and floor. We check for runout on a tool's diameter and face with milling tools. We also use a Parlec Origin pre-setter to ensure the accuracy of our work. Furthermore, if you would like an inspection report to accompany your repaired tool, we can provide one for the asking.
If your tooling is too expensive to replace or takes too long to source, MetalCut Tool Services offers a solid alternative. As the following example graphic demonstrates, repaired tooling can be about 1/3 the cost of new replacement tooling. With the savings you realize from working with us instead of someone else, you can make significant investments in your business to help ensure that it remains strong.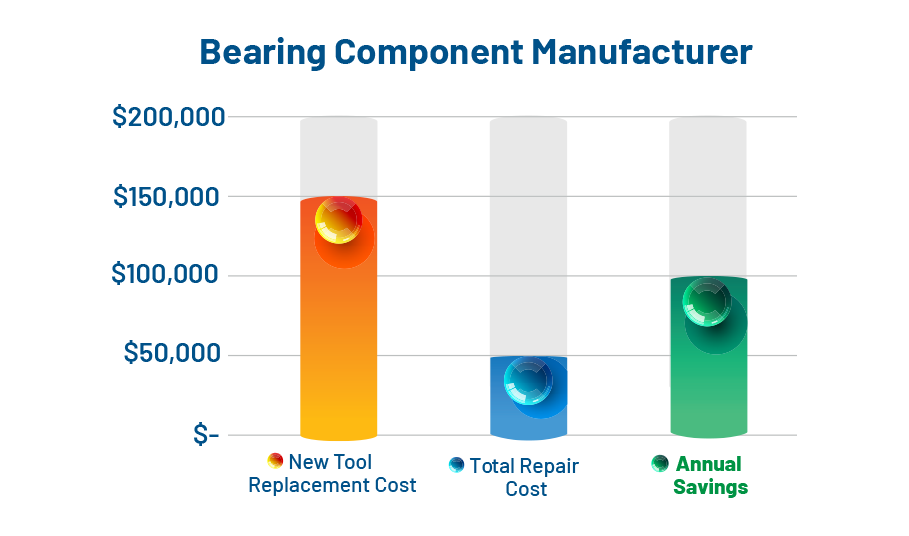 Our 4-step process, which gives you a level of quality that is difficult or impossible to find anywhere else, consists of:
1) Inspecting damaged tooling and preparing a quote within 24 hours;
2) Repairing your tools after you send us a purchase order;
3) Inspecting tools to make sure the repairs are correct; and
4) Shipping repaired tooling back to you in like-new condition.
Contact a tool repair specialist to streamline your tool repair process and get more tool life for less money.